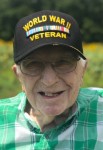 July 11, 1922
-
September 15, 2018
Born in Abrams, Wisconsin
Resided in

Urbana

,

Maryland
Obituary
Milton Erdmann, age 96, passed away in Urbana, Maryland, on September 15, 2018. He was surrounded by his family: daughter, Amy, and her husband, Eric Steinhoff, and granddaughters Kayla, Erica and Brooke. Milt had lived with his family for the last 7 years. Over those years he shared his quirky sense of humor (he could do a great rooster imitation); love of reading (he enjoyed newspapers, magazines & books discovered on trips to the resale shop); and love of old-timey music (Lawrence Welk was always a favorite)! Even though he had battled a second round of prostate cancer, 2 strokes and other health issues, Milt always amazed his doctors & caregivers at his ability to overcome setbacks. Milt loved spending time with his granddaughters, and they loved spending time with him & were happy to help take care of him as his health declined.
Milt was born on July 11, 1922 in Abrams, Wisconsin--the son of Herman A. and Louise F. (Lear) Erdmann. The family moved to Iron Mountain, Michigan when he was 6 years old. He graduated from Kingsford High School in 1939, and then attended Northern Michigan College (later to become Northern Michigan University).
In 1941, he transferred to Michigan State College, where he received his Bachelor of Science degree in Agriculture. Milton enlisted in the U. S. Army Air Corps and served as a B-24 Bomber pilot in the 15th Air Force based in Italy. He completed 27 bombing missions over Northern Italy, Austria, Yugoslavia and southern Germany. Among other citations, he was awarded 5 Bronze Battle Stars and an Air Medal.
After the war, he returned to his education at Michigan State College and received a Master's degree in Farm Crops. He taught agriculture to veterans in Alpena, Michigan, and served as an instructor in the Agriculture Short Course department at Michigan State for 3 years. After receiving a research fellowship from the Michigan Sugar Beet Industry, Milt received his Ph. D. in 1953. In 1966, Milt took a sabbatical at Cornell University. He served as an Extension Specialist in the Department of Crop and Soil Sciences for 27 years--retiring as Professor Emeritus from Michigan State University in 1980.
In 1958, Milton married Carol Greene of Kingsford, Michigan. They had one child, Amy Sue. Milton and Carol loved to travel--to Iron Mountain to visit relatives and to as many places as they could see. Family trips to Europe and Hawaii were always a favorite. They also enjoyed camping in their mini motor home and did so as long as Carol's health allowed. Milt was preceded in death by his wife, Carol, and by his father, Herman, mother, Louise, and brothers Herman H. & Edwin H. K. Erdmann.
Arrangements in Maryland were handled by Resthaven Funeral Services. A memorial service for Milton will be held on Saturday, June 22, 2019 at 1 PM at St. John's Lutheran Church in Florence, Wisconsin. A graveside service with military honor guard will follow at Woodlawn Cemetery with a luncheon afterward at St. John's Lutheran Church. Donations in Milton's name can be made to your favorite charity or to Honor Flight (www.honorflight.org). Honor Flight provides WW II vets with trips to Washington, DC to see the memorials, and Milt was an Honor Flight participant when he lived in Michigan.
To plant a tree in memory of Milton Erdmann, please visit our
Tribute Store
.
Services
To plant a tree in memory of Milton Erdmann, please visit our Tribute Store.
Service
St. John's Lutheran Church
524 Olive Ave
Florence
,
Wisconsin
USA
54121
Burial
St. John's Lutheran Church
524 Olive Ave.
Florence
,
Wisconsin
USA
54121