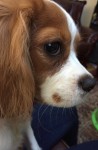 Obituary
My baby boy. My child. My companion. You healed hearts and left smiles. you were definitely not a guard dog because you loved and greeted everyone - literally. I appreciated your wet kisses, playfulness and ability to run circles for hours but could also chill and relax. You traveled more than most enjoyed swimming lessons by time you were just eight months old. Not sure why you always found the need to steal and hide certain things, but continue to find them all over the place, thank you! Those that met you said that your were MY dog because our personalities matched perfectly.
There are a few people waiting for you, I promise that they will love and take care of you. I trust them with all my heart. One has been there for a while, so he can guide you but the other has just left to make way for you.
Keep greeting, kissing and running! There will never be another dog like you. Everyone will miss you, but memories live forever. Thank you for all the happiness that you gave us and kindness shared even in your final days on earth. I needed you just as much as you needed me for reasons that most will never know.
You left prints on our hearts by just being you, Sir David Jackson.
To plant a tree in memory of DJ Edmond, please visit our
Tribute Store
.